December 13, 2017
Roofing 101: Shingle Roofing Pros and Cons
We've reviewed the pros and cons of metal roofs for homeowners in South Florida, now it's time to review another popular contender: shingle roofs.Shingles are made of various materials such as wood, slate, metal, plastic, or composite material such as asphalt.
Looking for an ultra-dimensional wood-shake look? GAF Timberline offers an HD Shingle that has an enhanced shadow effect to create this appearance. At times, the architecture of the home may require a different option like asphalt shingles; the GAF Camelot shingles, combine artisan-crafted shapes with oversized tabs for a sophisticated look. There are even high-performance shingles, such as the GAF Timberline American Harvest, which provides excellent protection for your home.
As you can see, there are many types of shingles you can use as your roofing material in Miami. By first considering the pros and cons of roof shingles, it will be easier to decide if you would like to use shingle roofing materials for your home in South Florida.
SHINGLE ROOF BENEFITS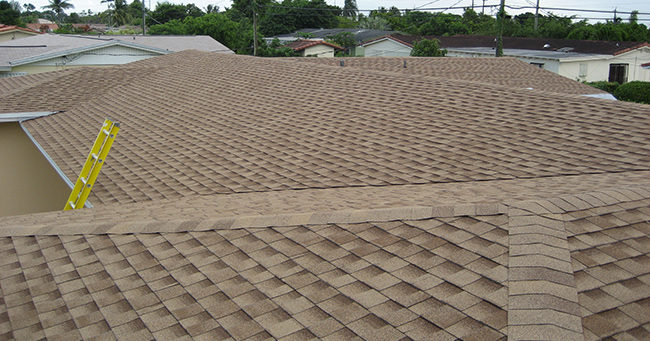 Affordability: With a lower cost alternative to tile roofing materials, shingles are a cost-effective solution for your home. It's strength, material and durability lead to a low cost of repairs.
Warranty: A new roof is a big investment, typically involving a high expense and lasting several years. As with any big investment, a warranty can save you thousands of dollars if problems arise with your roof. GAF provide a lifetime warranty that will maintain color, and ensures the granules will not wash off.
Environmentally Friendly: Shingles are recyclable and help preserve landfill space. There are composites in asphalt that are beneficial in creating other materials, such as pavement and hot-mix asphalt, which improves cement quality.
Aesthetic: Shingles roofs are a lovely sight to see and can transform your house into a wonderful masterpiece. It's known as a classic and natural looking roof style with a unique character. They are also available in a variety of widths, colors, thicknesses, and cuts – which provide different options to be creative with your roof home style in Miami.
SHINGLE ROOF DRAWBACKS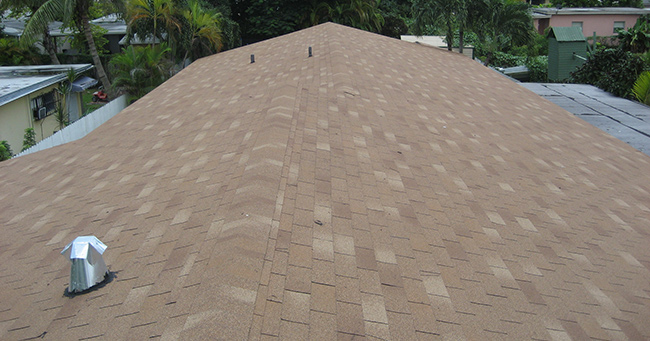 Style: Although shingle roofs are beautiful, they do not match the typical architecture we find in South Florida. South Florida is known to have tile roofs, whereas, other states utilize shingles because it performs best in the cold and can handle snow.
Maintenance: This roof type may be susceptible to mold or mildew because it can absorb moisture and stay damp for extended periods of time. The good news is that the mold or mildew can be easily cleaned, and you can prevent it from happening again.
Weather Performance: Although shingles are the most popular roofing product in most parts of the Country; shingles are beaten out by tile in South Florida and California. Tile is a better performing roofing product, versus shingles, when it comes to warm weather while shingles perform well in cold and snowy weather.
Now that you know more about the pros and cons of shingle roofing materials in South Florida, what are your thoughts? Do they suit your home in Miami? If you're having trouble deciding, a roofing consultant from T&S Roofing will be happy to review your top roofing materials, while providing knowledgeable tips to guide you in the right direction.