December 18, 2017
Holiday Safety Tips for Your Family and Home
The winter holidays are a time for family gatherings and celebration in Miami. This means more home decorating and festive fireworks. While the holiday season is a time of joy, it can also pose many dangers, with an increased risk of fire and accidents. Thankfully, there are several things you can do to keep your family and home safe for the holidays.
Before preparing for your holiday celebration in Miami and South Florida, be sure to follow these home safety tips to help you have a joyous and safe holiday season.
Tip #1: Prevent Christmas Tree Fires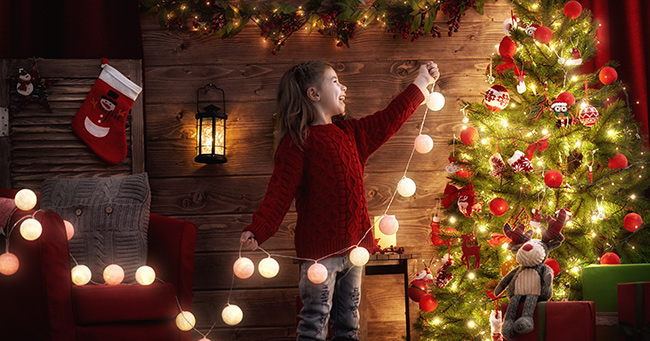 When choosing a Christmas tree in South Florida, it can be difficult to decide whether to purchase a real or artificial tree. While artificial trees pose fewer safety concerns than real trees, each tree type comes with its own set of safety concerns.
Real Christmas Tree
If you decide to have a real Christmas tree adorning your South Florida home during the holiday season, start by picking a tree that is still fresh and alive. The trunk should be sticky, the pine needles should not fall off, and the limbs should be very flexible. When you bring your Christmas tree home, cut off the bottom two inches of trunk, or buy a tree that has already been pre-cut. This will create a fresh, raw cut for the tree to soak in water, and prevent it from drying out. Watering your Christmas tree often is the most important step to keeping it hydrated, and preventing a fire. A dried-out tree is flammable, and can be ignited from an electrical fire or a heat source.
Artificial Christmas Tree
If you are purchasing an artificial Christmas tree, be sure to follow the electrical tips and instructions provided on the packaging of the Christmas light decorations. Even flame resistant artificial trees can catch fire when electrical sockets are overloaded and create a short circuit; the resulting spark can land on a branch and the tree could quickly go up in flames.
Pro Tip: Place your Christmas tree away from fireplaces, candles, radiators, lamps, and other sources of heat.
Tip #2: Prevent Outdoor Electrical Fires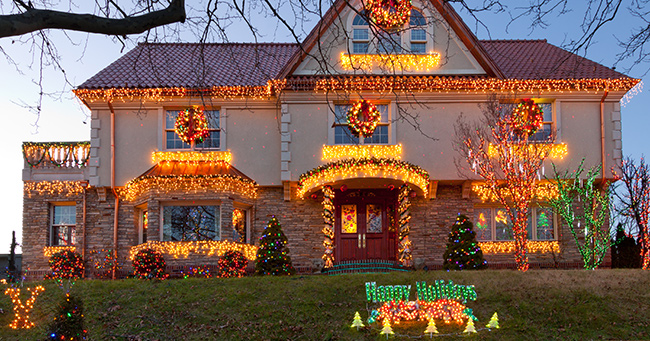 When you begin to hang your Christmas lights onto your homes roof, check that the lights are designed to be used outdoors, use the proper outdoor extension cords, and use clips to hang the lights on your roof; using screws, nails or a staple gun will cause damage to your roof. Limit the number of lights you use to prevent blowing a fuse and other potential damages. When using a ladder to hang the lights on your roof, we recommend you always have someone else working with you and remember to turn the Christmas lights off before bed.
Pro Tip: Plan your outdoor Christmas light display before you begin to hang your lights on your roof to limit the amount of time you spend on the roof. Walking on your roof poses many risks, and it is best to avoid any accidents.
Tip #3: Practice Firework Safety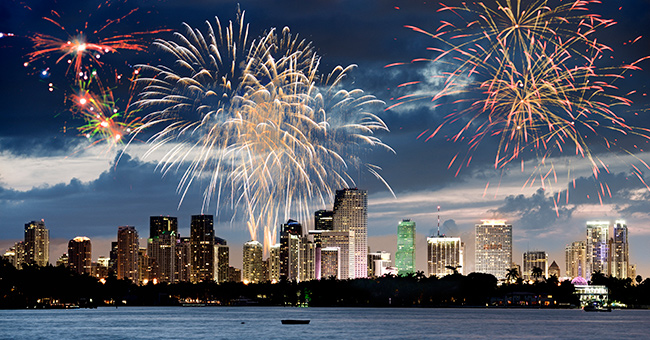 The best way to protect your family and roof is to not use any fireworks at home. Instead, attend public fireworks displays and leave the lighting to the professionals. If you plan to use fireworks, do not wear loose clothing and never light indoors or near grass. It's always advised to shoot the firework away from homes, leaves, and flammable substances. Always have a bucket of water or a fire extinguisher nearby in case of a fire.
Pro Tip: Protect your homes roof by removing debris that can easily catch fire caused by a misguided firework or stray sparks.
At T&S Roofing, we want you to enjoy a holiday season free of hazards. We wish you a joyous holiday season in Miami.